This Windows 10 Health Report provides an overview of the problems people are encountering in September 2020 due to new cumulative updates or changes made in the operating system.
Every month, Microsoft releases new Windows updates on the second Tuesday of every month, known as Patch Tuesday, to fix operating system bugs and security vulnerabilities.
In addition to the Patch Tuesday updates, Microsoft also releases an optional Windows 10 cumulative update towards the end of the month for all supported versions of the operating system.
This second update is known as a 'preview' update as it contains the fixes coming in the next month's Patch Tuesday and allows administrators and consumers to tests the fixes before they are released worldwide.
Unfortunately, when new Windows 10 updates are released, it is very common for users to run into bugs that cause crashes, performance issues, and visual problems, which we will outline in this report.
So far, Microsoft released this month the Windows 10 2004 KB4571756 update, and the Windows 10 1909 KB4574727 and KB4577062 cumulative updates.
The September 2020 Windows 10 issues
Below are the known problems affecting Windows 10 in September 2020.
Trim command is used on unsupported drives.
Since the May 2020 Update was released, the Windows 10 Optimize Drives feature began performing the TRIM command on hard disks that do not support this feature.
While this does not affect the drives themselves, it will be shown as an error in the event log.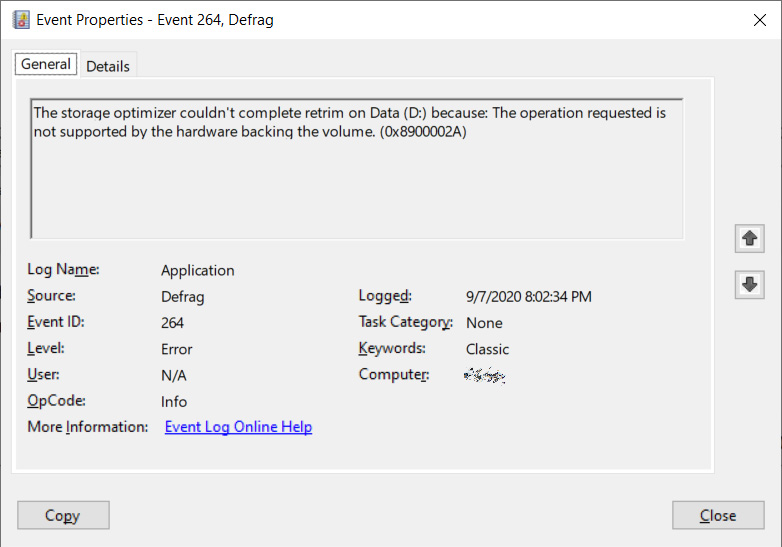 Windows 10 crashes on Lenovo ThinkPad laptops
Windows 10 on Lenovo ThinkPad laptops models from 2019 and 2020 have started crashing with Stop errors due to a change introduced in Windows updates.
fter Lenovo ThinkPad users installed Windows 10 2004 KB4568831 and later updates, Windows 10 would start crashing with "SYSTEM_THREAD_EXCEPTION_NOT_HANDLED" (in the Stop error message screen) and "0xc0000005 Access Denied" errors.
enovo warned that this is being caused if the "Enhanced Windows Biometric Security" setting is enabled in a laptop's UEFI configuration.
This week Microsoft has acknowledged the issue and state that they are working with Lenovo on a fix.
For those who do not want to wait for the fix, you can disable the Lenovo feature by going into the laptop's UEFI configuration and disabling the Enhanced Windows Biometric Security setting under the Security > Virtualization menu.
New Windows updates are force-installing Microsoft Edge
Microsoft is installing two new mandatory updates that are force installing the new Chromium-based Microsoft Edge in Windows 10.
Microsoft has stated for some time that they will be replacing Microsoft Edge Legacy with their new Edge browser and continue to release new updates each month that do so.
When these updates are installed, they will install the new Microsoft Edge and remove the Microsoft Edge Legacy from Windows 10.
This month's updates have been released as KB4576754 for Windows 10 versions 1809, 1903, 1909, and 2004 and KB4576753 for Windows 10 1803.
If you want to block the new Microsoft Edge installation, you can follow these instructions to prevent the update from being installed.
WSL 2 is broken for some Windows 10 2004 users
After installing the Windows 10 2004 KB4571756 update, users began reporting that the Windows Subsystem for Linux 2 was broken when they attempted to launch a Linux distro.
When attempting to launch a distro, they would be greeted with errors stating "Element not found" and "Process exited with code 4294967295."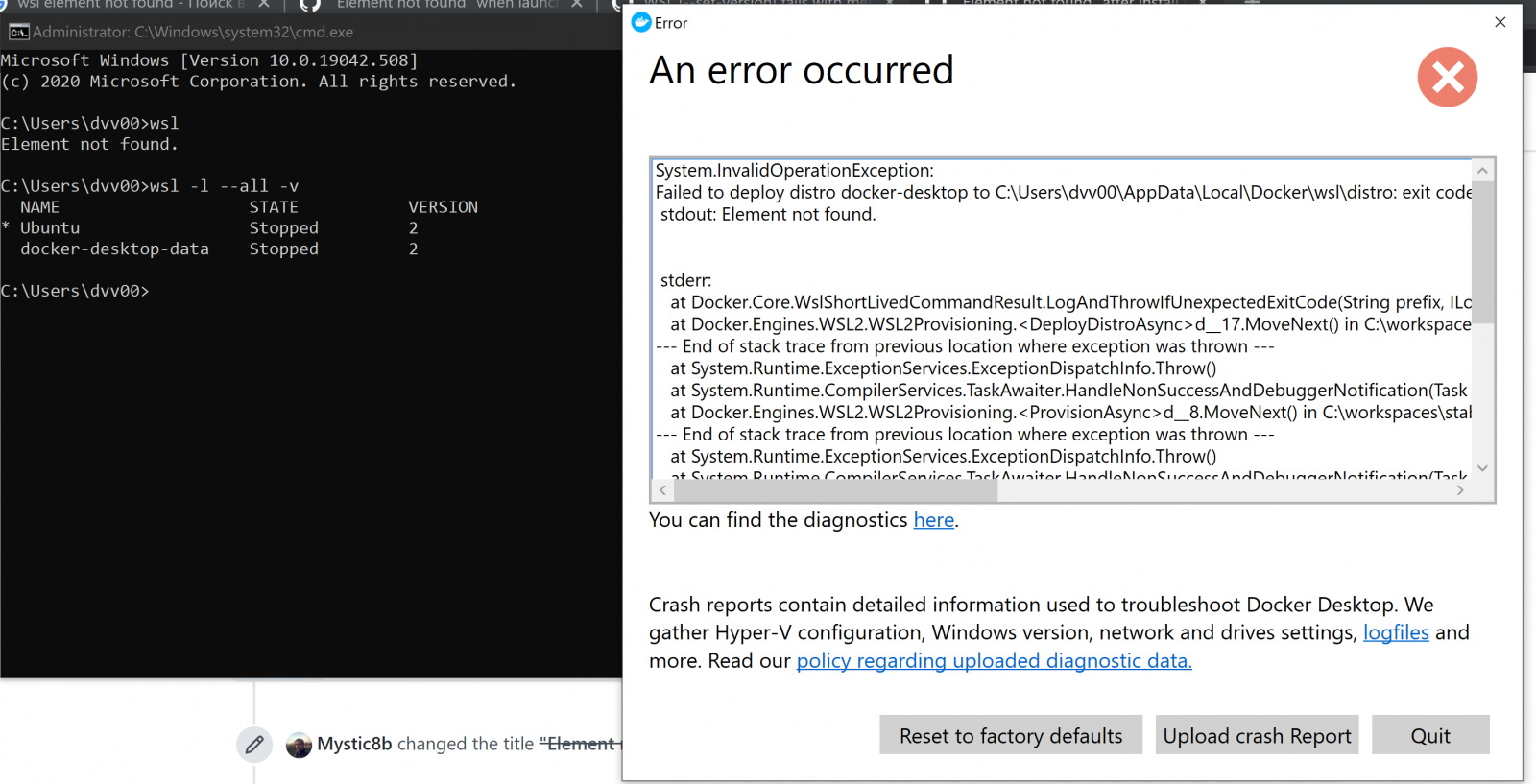 The only way to fix this issue would be to uninstall the KB4571756 update.
Microsoft announced this week that a fix for this bug would be released in an upcoming servicing release.
Security Options MMC in gpedit displays wsecedit.dll error
ornCity reports that Windows Server 2016 administrators receive a wsecedit.dll error when attempting to open the Security Options MMC in the group policy editor.
This bug appears to have begun after installing the KB4577015 update.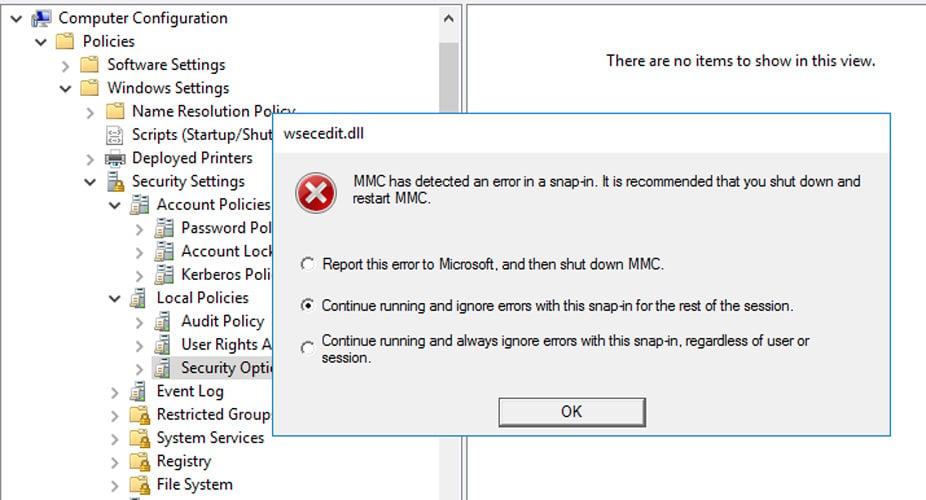 Compatibility errors when upgrading to Windows 10 1903 and 1909
In the release notes for the Windows 10 version 1903 and 1909 KB4574727 cumulative update, Microsoft states that users may receive a "What needs your attention" error when attempting to upgrade from an earlier version.
"When updating to Windows 10, version 1903 or Windows 10, version 1909 from any previous version of Windows 10, you might receive a compatibility report dialog with "What needs your attention" at the top and the error, "Continuing with the installation of Windows will remove some optional features. You may need to add them back in Settings after the installation completes." You might receive this compatibility warning when LOCAL SYSTEM accounts are blocked in a firewall from accessing the internet via HTTP. This is caused by the Windows 10 Setup Dynamic Update (DU) being unable to download required packages," Microsoft stated in the KB4574727 release notes.
As a temporary workaround, they offer the following fix:
"If your device has access to HTTP blocked for LOCAL SYSTEM accounts, to mitigate this issue you can enable HTTP access for the Windows 10 Setup Dynamic Update (DU) using the LOCAL SYSTEM account. After you have allowed access, you can restart installation of the update and you should not see the warning. You can also continue by clicking the OK button or use the /compat IgnoreWarning command to ignore compatibility warnings but this might also ignore other warnings that your device might be affected by.
We are working on a resolution and will provide an update in an upcoming release."
Reports of Start Menu crashing or becoming unresponsive
Windows Latest reports that some users cannot open the Windows 10 Start Menu, or it become unresponsive after installing the September updates.
"W10 version 1909 user here (KB4574727). Had to uninstall the update because the Windows Explorer is borked. Start menu closes abruptly whenever clicking on anything, search also doesn't work (start menu: closes; Windows Explorer window: window stays open but won't let me search anything). Something's wrong with this build.", a user reported on Reddit.
Only some users have reported this issue, but enough to indicate that something may be going on.
Assorted install problems, crashes, and performance issues
As is typical when new cumulative updates are released, users encounter problems installing the updates, or performance issues and crashes after they are installed.
The majority of these issues are caused by changes made to Windows 10 by updates that cause conflicts with existing drivers.
A perfect example of this is the Lenovo crashes caused by a change introduced by Microsoft.
For those encountering issues with this update, you should update the drivers for your hardware and computer and see if those resolve the problems you are having.
n particular, focus on graphics, audio, and chipset drivers when updating drivers.
Issues fixed this month
Below we outline the most concerning issues that have been resolved by Microsoft this month.
Microsoft fixed bug causing over-defragging of SSD drives
After the Windows 10 May 2020 Update was released, we reported that a bug was causing the Windows 10 'Automatic Maintenance' feature to not remember when an SSD drive was last optimized.
This bug would cause the Windows 10 to attempt to perform another drive optimization, including a defrag, of SSD drives every time Windows 10 was rebooted.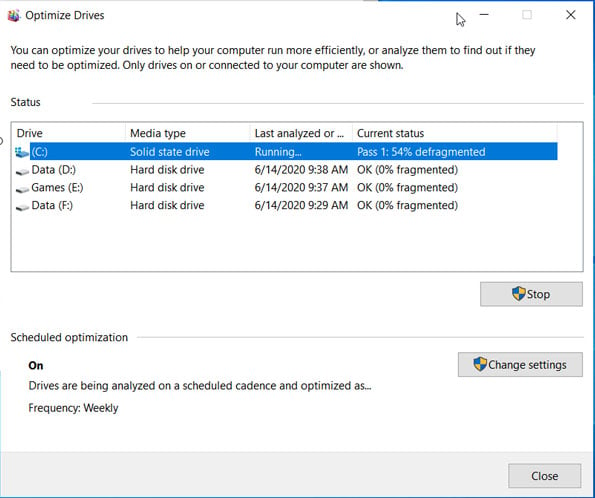 With the Windows 10 Version 2004 KB4571744 cumulative update, Microsoft fixed this bug, and now the Automatic Maintenance features remember the last time a drive was optimized.
Unfortunately, as described earlier in this article, the TRIM feature is still used against hard disks that do not support the command.
Microsoft removes the ability for Windows Defender to download files
With the release of the Windows Defender Antimalware Client version 4.18.2009.2-0, Microsoft has removed the ability to download arbitrary files using the MpCmdRun.exe utility.
Last week, we reported that Microsoft turned Windows Defender into a LOLBIN by allowing it to download files.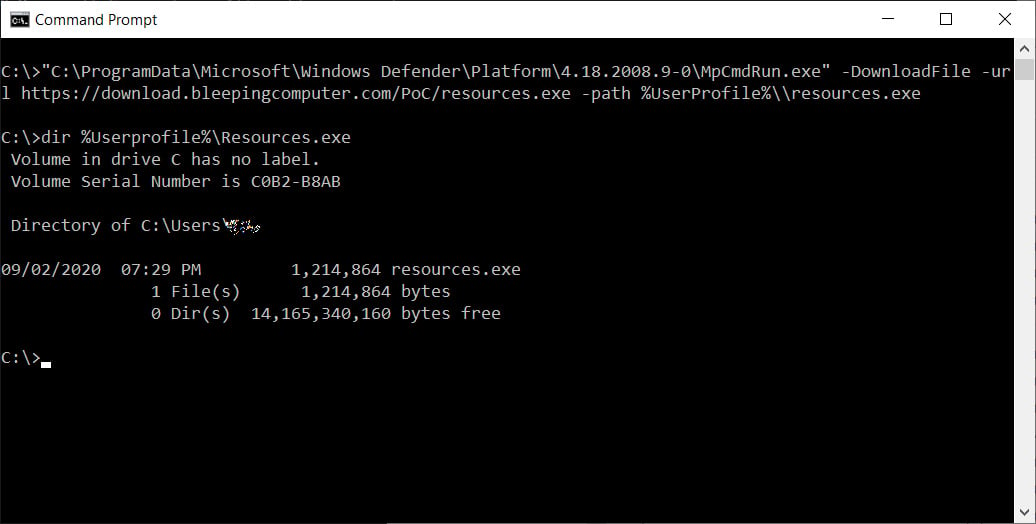 When this was discovered, there was concern that this feature could allow attackers to utilize Microsoft Defender to download malware to Windows.
Just like they quietly added the download feature, they have removed it without explaining why it was added in the first place.
Notable Windows 10 changes in September 2020
Below are the changes introduces in Windows 10 in September 2020.
Internet Explorer warns that Adobe Flash will soon reach end-of-support
With the KB4577062 cumulative update for Windows 10 v1909 and v1903, Internet Explorer will now display a warning message that supports for Adobe Flash will soon be ending.